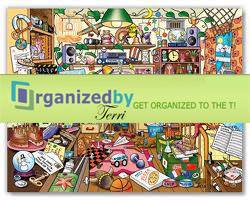 Identifying Clutter
With Three Easy Questions

What exactly is clutter? Clutter is anything unnecessary and extraneous. It can be more than the physical clutter most of us think of. Getting organized means clearing out the clutter in your mind, heart, and life. As for the physical clutter, ask yourself the following three questions about each item in your home. If you can't answer yes to at least one, it's probably clutter!

1. Is it beautiful? A stunning piece of artwork enriches your life because it brings joy each time you see it. A gorgeous vase full of fresh flowers reduces stress and energizes your spirit.

2. Is it useful? You use your 12-cup coffee maker every day. You couldn't make it through the week without it. (Don't confuse this question with, "Will it be useful someday?")

3. Is it loved? The antique pocket watch from your grandfather is a precious reminder of him. Your favorite cashmere sweater makes you feel fabulous.

You'll find that as you inventory your possessions, you may be able to answer "yes" to two or even three of the questions above. Those are the things that are most valuable to you. Remember, the goal of de-cluttering is not to get rid of everything. It's simply to keep only things that you truly appreciate and use.

To stop clutter, prevent it from accumulating in the first place. Don't give clutter a chance to form. As you've probably experienced, once clutter occupies a space, it has a way of multiplying. Always remember to place your emphasis on quality over quantity. In other words, it's not important to have a lot of things, many of which you never use. It's more beneficial to have fewer things, all of which you use and/or enjoy.

Think before you buy. Try to look beyond the initial "thrill of the purchase" and see what provides deeper moments of meaning. Before you buy, think about the time you'll spend in cleaning, storing, and maintaining that item after you bring it home. If you must buy, establish a "new item in, old item out" system where some purging takes place before shopping.

Once you rid yourself of clutter and make space only for what's special, you'll find it's easier to get - and stay - organized! You'll soon reap the benefits of a clutter-free life: more energy, happier relationships, a well organized home or office, new opportunities, and a better outlook on life.
********************************************
Reasons For Clutter
A need for Abundance:

Buying and storing in bulk: cooking in mass; feeling guilty if you waste something

Unclear Goals, Priorities:

Taking on too much; feeling scattered; bouncing from one thing to another; accumulating things you don't use.

Fear of success or failure:

Using disorganization to hold yourself back; making excuses rather than taking baby steps forward

A need to Retreat:

Using clutter to provide insulation and a feeling of safety.

Fear of losing creativity:

Believing that chaotic, disorganized surroundings enhance creativity.

A need for distraction:

Creating chaos to ignore larger underlying issues; avoiding things you'd rather not face or deal with.

Sentimental Attachments:

Holding onto the past; not letting go of objects that no longer serve you and that you may not even like

Perfectionist tendencies:

Having unfinished projects; thinking nothing is ever good enough; needing to control

"Just in case' clutter:

Holding on to things in case you might need them in the future
Give everything a home.

It's okay to have stuff, but try to keep it in organized locations.

Narrow things down.

Create a system that suits your way of living and thinking so you'll stick with it.

Allow yourself t

o exceed your own expectations-start with small tasks with realistic goals.

Give yourself a lift.

Start with a room you love and keep only what you absolutely love.

Remember

that being organized releases rather than constricts creativity

Take quiet time

for yourself, and focus on what you've been neglecting. Reward yourself for noticing.

Offer

furniture and family mementoes to relative that may appreciate or need them more than you. If you don't like it, give it to someone who does.

Let others help.

Start with a small project and follow through to completion.

Trust that the universe will provide for you. If you need that item again, trust that it will come to you in some way




Tax Time Tips
What ever time of year you need help getting those important papers together, we are here to help! Here are a few tips to get started:
~Arrange to make a session with yourself to get started on your taxes~
Set aside a couple of hours to get started
Go through your checkbook and files to find important items to copy for accounting purposes
If you already use an accountant, usually a tax preparation document will arrive for you to base your information.
If necessary, two weeks after this set up one more session for yourself to complete your work.
You are then prepared to begin your actual preparation or send your information to your accountant.
Use technology as your assistant
Financial software can rescue you from a potential mistake.
Load Quicken on your computer and begin entering you checking information.
· The programs preset categories are conveniently set so that as you pay your monthly bills, and you are itemizing for taxes too!
File electronically
File electronically with the IRS, and upon receipt, you will receive confirmation!
Contact Terri-972-821-7737
Email: terri@organizedbyterri.com
D/FW and Surrounding Area
Allen, Anna, Colleyville, Coppell, Denison, Denton, Flower Mound, Frisco, Gainesville, Gunter, Lewisville, Little Elm, Lindsay, McKinney, Melissa, Murphy, Plano, Prosper, Richardson, Roanoke, Sherman.
"Creating Personal Designs for Effective Style and Organization"TM
.